In Washington, D.C., the 2008 Clean and Affordable Energy Act established a Sustainable Energy Trust Fund (SETF) and created a "Sustainable Energy Utility." The SETF is funded by a surcharge to all electric and natural gas ratepayers in the District of Columbia. In 2012, the D.C. Sustainable Energy Utility (DCSEU) launched a Small-Scale Solar Initiative, a pilot for low-income residents in Wards 7 and 8, which resulted in 54 photovoltaic installations to reduce their energy costs. At no upfront cost to the homeowners, the installations were financed using a combination of SRECs, federal tax incentives, DCSEU incentives, and contractor financing.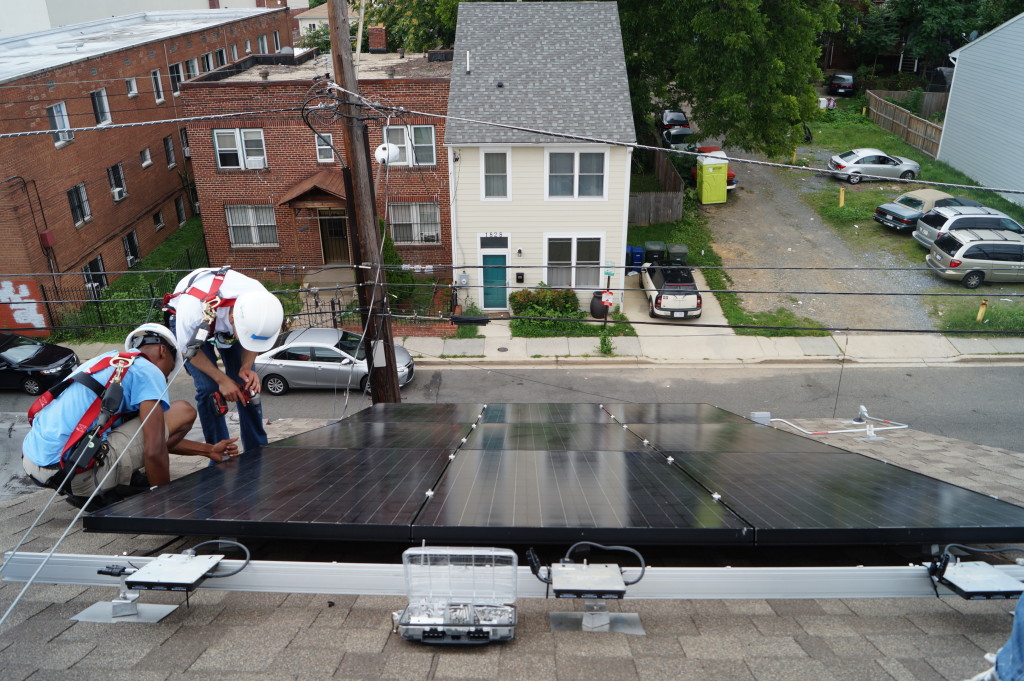 The successful Small-Scale Solar Initiative evolved into the 2015 Solar Advantage Plus Program, which provided rebates to authorized solar installers for installing solar panels on income-qualified homes across every Ward in the District. Funded by the District of Columbia's Department of Energy and Environment (DOEE), and implemented by the DCSEU, the Solar Advantage Plus Program covered the full cost to install solar panels on single-family homes owned or rented by income-qualified District residents. Authorized solar installers received a maximum rebate of $10,000 per system. The 2015 Solar Advantage Plus Program operated on a first-come, first-served basis and rebate fulfillment was dependent on funding availability.
In 2016, demand for the program (called the Affordable Solar Program) was very high and the DCSEU was funded to serve 140 homes in fiscal year 2016. To date, the DCSEU, working with a number of local contractors, has installed over 500 solar PV systems through its income-qualified solar programming.
In July 2016, DC Mayor Muriel Bowser singed into a law the Renewable Portfolio Standard Expansion Amendment Act of 2016 (B21-0650), setting the stage for a significant expansion of the District's investment in low-income solar. The Act requires the District to set the following goals:
Increase the amount of energy to be consumed from renewable sources to 50% by 2032;

Increase the amount of locally generated solar energy from 2.5% in 2023 to 5% by 2032; and

Establish the "Solar for All Program" to increase access to solar power benefits (includes rooftop, multifamily, and community solar models) to seniors, small local businesses, nonprofits and low-income households,  with the goal of reducing electric bills of at least 100,000 district low-income households by at least 50% by 2032.