Best Practices for Utility Ownership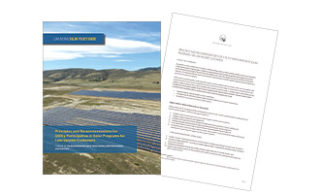 Solar power is a cost-competitive, mainstream renewable energy resource that should be available to everyone, regardless of their income level or housing type. Yet America's nearly 50 million low-income households, who spend more on their energy needs as a percentage of income than their wealthier peers, are often unable to access or benefit from local solar resources. It is imperative that the country's transition to clean electricity meet the needs of underserved communities in a way that is inclusive and equitable.
Utilities are in a powerful position to facilitate the transition to clean energy for all and can play a vital role in expanding solar access and choice for low-income households. However, special care must be taken to ensure utility owned projects are designed to meet the needs of low-income households and underserved communities. In considering the roles utilities can and should play in making solar available for low-income households and underserved communities, Principles and Recommendations for Utility Participation in Solar Programs for Low-Income Customers from The Environmental Law & Policy Center, GRID Alternatives, and Vote Solar outlines three interrelated sets of guidelines and considerations for policy makers and regulators to review.
Opportunities for Utility Facilitation of Low-Income Solar
Considerations for Utility Development and Ownership of Solar for Low-Income Communities
Guidelines for Successful Low-Income Solar Programs