DHA's Community Solar Project Keeps Housing Affordable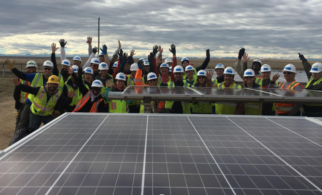 An affordable place to live is not something April Valdez takes for granted. A mother of four young children who also cares for an elderly mother and grandmother, her budget is always stretched to the limit. That's one of the reasons she's so excited about Denver Housing Authority's (DHA) new community solar array. In 2017, Denver Housing Authority (DHA) partnered with GRID Alternatives Colorado and Namaste Solar to develop and install a 2 MW DC community solar project through Xcel Energy's Solar*Rewards Community Program. The project's output will benefit DHA housing as well as other Low-income Housing Tax Credit (LIHTC) and Public Housing Buildings in the Denver metro region – properties housing over 700 low-income residents in total. The project will generate an estimated savings of 15-20% for these properties on their average monthly utility bills, which will flow to residents like Ms. Valdez through reduced and predictable energy rates and additional supportive services.
"Having a secure and affordable home with Denver Housing Authority has been a lifesaver," said Ms. Valdez.
"It's exciting to be able to not only supply our own residents with a source of clean, renewable energy, but to also offer hundreds of low-income families across metropolitan Denver with reduced and predictable energy rates," states Ismael Guerrero, DHA's Executive Director. "In addition, the program's design provides a scalable example that other Housing Authorities can easily replicate for their local communities."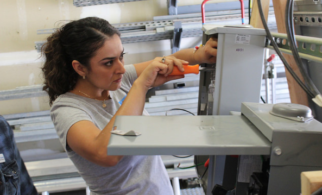 DHA developed an innovative financing structure for the project in partnership with GRID, National Housing Trust, Enterprise Community Loan Fund and Monarch Private Capital, as detailed by SEIA. The financial structure was also made possible by higher incentives for the purchase of the project's RECs by Xcel, supported through innovative bid evaluation factors in Xcel Energy's Community Solar Request for Proposals, including 'level of low-income subscribership' and 'innovative proposals that benefit low-income subscribers throughout the life of the contract.' This helps encourage projects like DHA's within the Xcel community solar program.
GRID Alternatives also connected with DHA's resident workforce training programs to provide hands-on and classroom based solar training through its Solar Training Academy. Ms. Valdez learned about the opportunity while taking classes at DHA to build up her resume, and after participating in the program she was hired into a 13-month paid fellowship through GRID's SolarCorps program.
"I had no idea what I was getting myself into, but I dove right in and I had a lot of fun," said April. "Solar Training Academy provides a sense of accountability — for someone who's been out of work, having to be somewhere every day and getting back into the culture of employment, without straightaway working, is an important step in their development."
As part of her fellowship, April now helps to run the Solar Training Academy for other DHA residents. "I want to offer more opportunities to help other women enter the solar industry in the same way I did," she said. She also got to help put the finishing touches on the DHA solar project, managing a volunteer weekend with more than 100 volunteers and job trainees who installed the final panels. "Knowing that the renewable energy and savings from the project were going to families like mine was wonderful," she said.