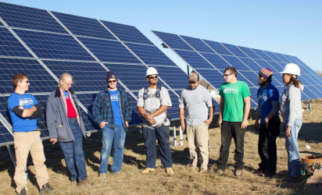 An exciting "first" is happening on the Leech Lake Band of Ojibwe Reservation in northern Minnesota: the integration of community solar with an energy assistance program to facilitate customer outreach, education, and enrollment.
With the assistance of a $490,000 grant from the Minnesota Environment and Natural Resources Trust Fund, the Leech Lake Band is working with the Rural Renewable Energy Alliance (RREAL) to install a 200 kW community solar garden at a local community center.  The local LIHEAP provider, Leech Lake Energy Assistance Program, will identify 100 low-income households per year to receive the electricity from the community solar garden.  As a result, participating customers will see a reduction in their utility bills, which will decrease their need for energy assistance support.
"This is an opportunity to provide a social service while also making sure the energy economy is inclusive," comments Jason Edens, the director of RREAL. "Going forward, integrating solar into energy assistance will be a more fiscally responsible way to use energy assistance funding, because it has a return on investment for the taxpayer."
Integrating solar into the Leech Lake Energy Assistance Program is spurring further efforts by the Band to explore increased clean energy use on the reservation.  In the meantime, the Band's community solar garden is an exciting start toward fully integrating solar into energy assistance programming across the nation.