Protected Place in the Sun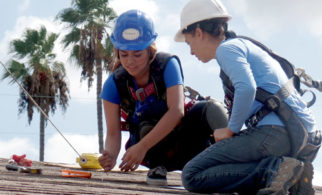 In Southern California, where solar installation is a thriving economic engine, the Mesa Grande Band of Mission Indians took advantage of a state low-income solar program to build a tribally owned solar company that will create opportunity for tribal members for years to come.
In 2014, two individual Mesa Grande members had rooftop solar installed on their homes through California's Single-family Affordable Solar Homes program (SASH).
Tribal leaders recognized the potential benefits for the community and worked with SASH program administrator GRID Alternatives to sign up other households for the program. With additional solar installations came workforce training opportunities for tribal members, learning to install on homes in their own community. The tribe decided to leverage the opportunity to start a business, and recruited a core group of 10 founding members from Mesa Grande and neighboring tribes.
Within a year, they had gained enough experience to strike out on their own, and Tekamuk Energy was born.  "A spark was ignited by these volunteers. They could see something greater than just learning the trade and getting a job," said Mesa Grande Band Vice Chairman Curtis La Chusa, noting that Tekamuk means "protected place in the sun."
"They saw they could create a company that would last many years and provide opportunities to not only Mesa Grande but for other communities. They kept that spark and grew it into a fire."
In September 2016, the tribe teamed up with two neighboring tribes to secure a U.S. Department of Energy cost-share grant that will leverage SASH funding for 42 installations in the three communities. Tekamuk will install a portion these projects as a SASH program subcontractor, a status it won in late 2016.
Mesa Grande officials hope their efforts will encourage other tribes to embrace solar. "We've taken this thing and built on it to create an economic opportunity for folks in their home," said La Chusa. "Hopefully this will be a start for tribes around the nation to work together in bringing clean energy to their reservations."