Solar Savings Reach Renters with LIWP Program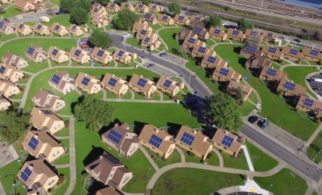 In Richmond, California, a city committed to providing economic opportunity and clean air for its residents, 98 families living in the Triangle Court affordable housing development have seen massive electricity bill reductions, thanks to the solar on their rooftops. Nonprofit GRID Alternatives partnered with the Richmond Housing Authority to install the solar, with project funding coming from California's Low-Income Weatherization Program (LIWP) for large multifamily properties.
LIWP receives funding for solar from California Climate Investments, a statewide program that puts cap-and-trade dollars to work reducing greenhouse gas emissions, strengthening the economy, and improving public health and the environment. LIWP's multifamily solar program covers 50-100 percent of costs for qualifying affordable housing developments that also implement energy efficiency improvements.
Triangle Court Apartments serve some of Richmond's most economically disadvantaged families. The challenge of the solar project was to ensure maximum financial benefits for residents. In typical HUD-sponsored affordable housing, tenants pay a fixed 30 percent of their income on housing, including utilities, so that when energy costs go down, rent goes up. For this project, the Richmond Housing Authority effectively froze the tenants' rent costs so that the reduction in electricity costs from solar would result in actual savings, rather than an increase in rent costs to regain a 30 percent ratio. The systems are expected to produce $1.88 million worth of energy and prevent 3800 tons of greenhouse gas emissions over their 25-year lifespan.
These savings have real impacts for the residents and their families. "I'm 65 years old on a fixed income and the reduction on my electricity will help me greatly as sometimes I have to struggle making ends meet," shared one retired resident.