Program Overview
In Washington, D.C., the 2008 Clean and Affordable Energy Act established a Sustainable Energy Trust Fund (SETF) and created a "Sustainable Energy Utility." The SETF is funded by a surcharge to all electric and natural gas ratepayers in the District of Columbia. In 2012, the D.C. Sustainable Energy Utility (DCSEU) launched a Small-Scale Solar Initiative, a pilot for low-income residents in Wards 7 and 8, which resulted in 54 photovoltaic installations to reduce their energy costs. At no upfront cost to the homeowners, the installations were financed using a combination of SRECs, federal tax incentives, DCSEU incentives, and contractor financing.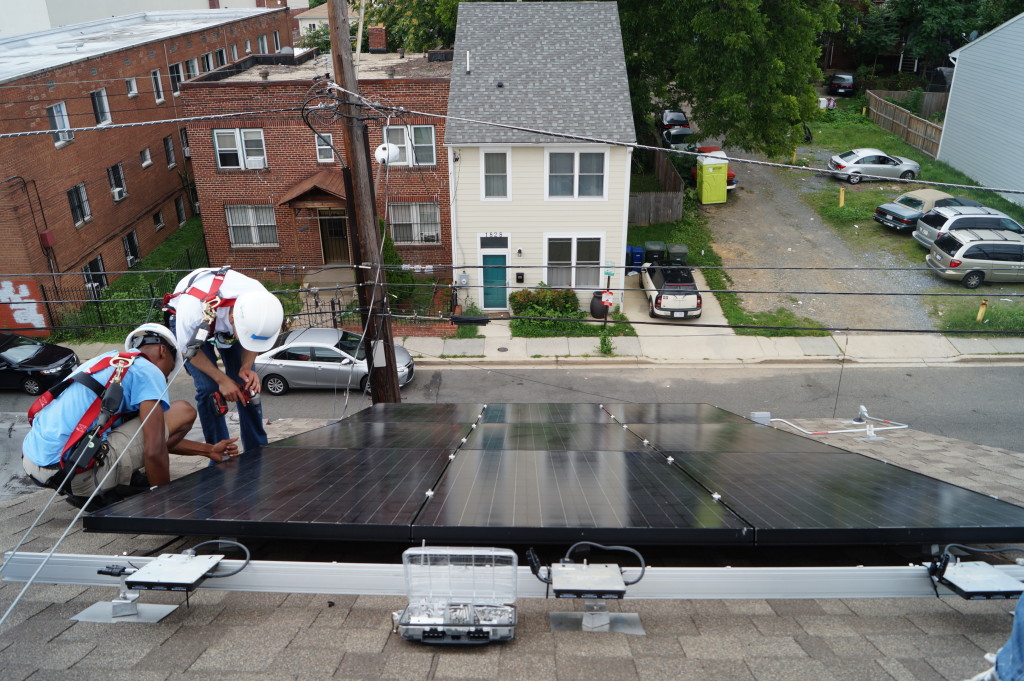 The successful pilot evolved into the Solar Advantage Plus Program in 2015, providing rebates to authorized solar installers for installing solar panels on income-qualified homes across every Ward in the District. Funded by the District of Columbia's Department of Energy and Environment (DOEE), and implemented by the DCSEU, the program covered the full cost to install solar panels on single-family homes owned or rented by income-qualified District residents, on a first-come, first-served basis. The program was renamed the Affordable Solar Program in 2016, and demand was very high. DCSEU, working with a number of local contractors, installed over 500 solar PV systems through its income-qualified solar programming.
The Renewable Portfolio Standard Expansion Amendment Act of 2016 set the stage for a significant expansion of the District's investment in low-income solar. It required 50% of the District's electricity supply to come from renewable sources, and 5% specifically from locally generated solar power, by 2032. It also established the "Solar for All" program to increase access to solar power benefits (including rooftop, multifamily, and community solar models) to seniors, small local businesses, nonprofits and low-income households, with the goal of reducing the electric bills of at least 100,000 district low-income households by at least half. The Solar for All program is funded by DOEE from utility compliance fees, and DCSEU is implementing the current phase of the program.
One example of a Solar for All program for single-family projects is Solar Works DC, which aims to train more than 200 District residents and install solar systems on up to 300 low-income single family homes in the District over three years. The cost savings per household is roughly $15,000, which translates to approximately $600 in savings per year.
In March 2019, the Clean Energy DC Omnibus Amendments Act of 2018 (B22-0904) took effect, doubling the Renewable Portfolio Standard from 50% to 100% renewable electricity by 2032. The new law preserves Solar for All and strengthens it by mandating a faster and more equitable transition to renewable energy.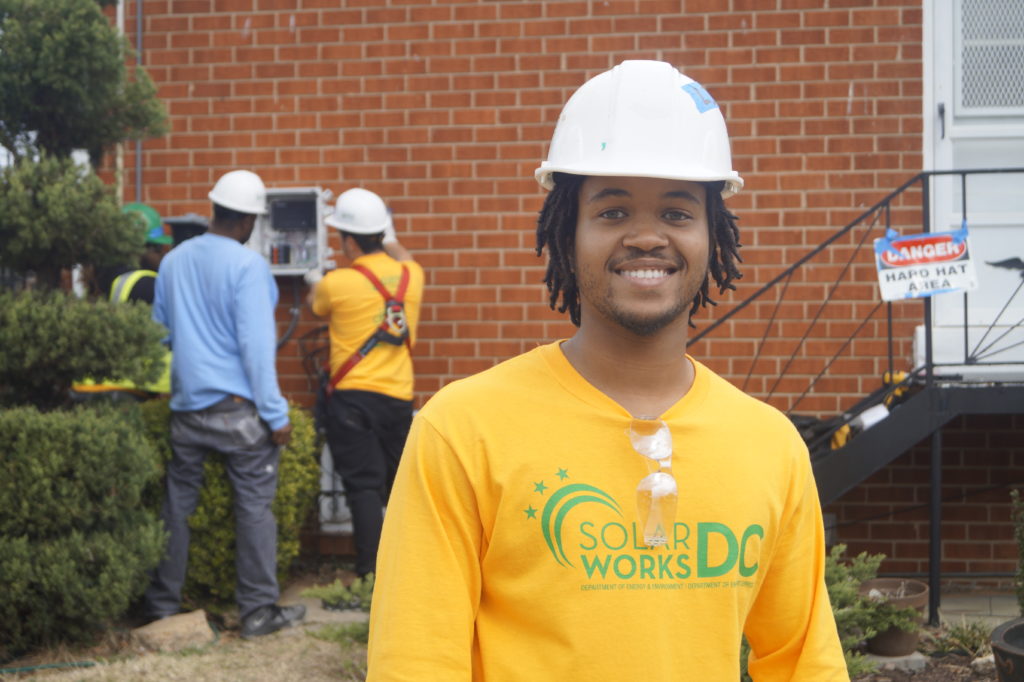 The District of Columbia's Solar for All Program is a great example of a comprehensive low-income solar program because it encompasses single-family projects, multifamily affordable housing projects, community solar projects and workforce development (read about the Solar Works DC program's workforce development components here).
Guiding Principles Addressed:
Accessibility and Affordability. The District of Columbia low-income solar programs are fantastic examples of leveraging public funds like the Sustainable Energy Trust Fund and Renewable Energy Development Fund, to bring the benefits of solar to everyone. The use of these funds, which are primarily funded from ratepayers and alternative compliance payments, demonstrate a long-term significant source of funding toward program development to directly overcome financial and other challenges to access.
Community Engagement. The primary agencies involved in the District of Columbia's low-income Solar Programs, DCSEU and DOEE, are committed to stakeholder and community engagement through things like the DCSEU Advisory Board, DOEE Solar for All Task Force, and regular meetings with stakeholders.
Consumer Protection. The main agencies involved in the District of Columbia's low-income solar programs, DCSEU and DOEE, work closely with the advocacy community and solar industry to implement the programs in a way that protects and educates low-income consumers on the benefits of solar, and provides the solar at no cost to the homeowner.  
Sustainability and Flexibility. As described above, DCSEU adapted its low-income solar program over time, and DOEE and DCSEU will implement Solar for All in five three-year phases to ensure the program is sufficiently flexible to adapt to market changes and overcome barriers.
Compatibility and Integration. The District of Columbia low-income solar programs are designed to be compatible with other efforts underway in the District of Columbia.
Last updated: May 2019