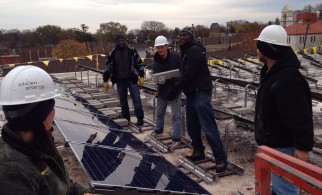 In the heart of a largely African American community in North Minneapolis, Shiloh Temple International Ministries is getting ready to turn community power into solar power.
Construction will begin in May 2016 on the Shiloh Temple Community Solar Garden project, part of the Just Community Solar Coalition that includes Minnesota Interfaith Power and Light, Sierra Club, Cooperative Energy Futures, job training partner Renewable Energy Partners, and many other local congregations. The new 202-kilowatt shared solar array will help lower energy bills for Shiloh Temple and about 40 households from both the Shiloh congregation and the broader community.
Customers will have two options for participation: either through a single upfront payment that delivers 25 years of bill credits or a pay-as-you-go option in which subscribers receive monthly bill credits of higher value than their monthly payments. In this low-income community where upfront capital is scarce and every month's budget matters, about 70 percent of the project's subscribers have opted for the latter option.
Cooperative Energy Futures General Manager Timothy DenHerder-Thomas is excited to be helping put to an end to the myth that solar isn't feasible or is too expensive for the North Minneapolis community. He notes that "in contrast to the extractive energy systems of the past, profits from this co-op solar system will go to its member-owners, contributing to community wealth in many ways." By prioritizing equity and community at every stage of its development, the Shiloh Temple Community Solar Garden is connecting the dots between social justice, economic opportunity and climate change.