Solar Works DC is a low-income solar installation and job training program spearheaded by the Department of Energy & Environment (DOEE) and the Department of Employment Services (DOES). GRID Alternatives Mid-Atlantic is responsible for implementing the program, preparing participating District residents to enter careers in solar and related industries while reducing energy costs for qualified low-income District homeowners by installing solar systems on their homes.
This program is part of the broader Solar for All Program, which was developed in 2017 to increase access to clean energy, reduce electricity bills, and create a long-term pipeline for green jobs.
In its first three years, Solar Works DC has trained more than 320 District residents and installed solar systems on more than 170 low-income single family homes in the District at no cost to the homeowners. Most households save more than $600 per year, or over half of their energy bills. In April 2019, Solar Works DC celebrated its 100th rooftop solar installation through the program, and in November 2020, the program was renewed for additional years. Going forward, the program will expand its coordination with local high schools and with programs serving returning citizens.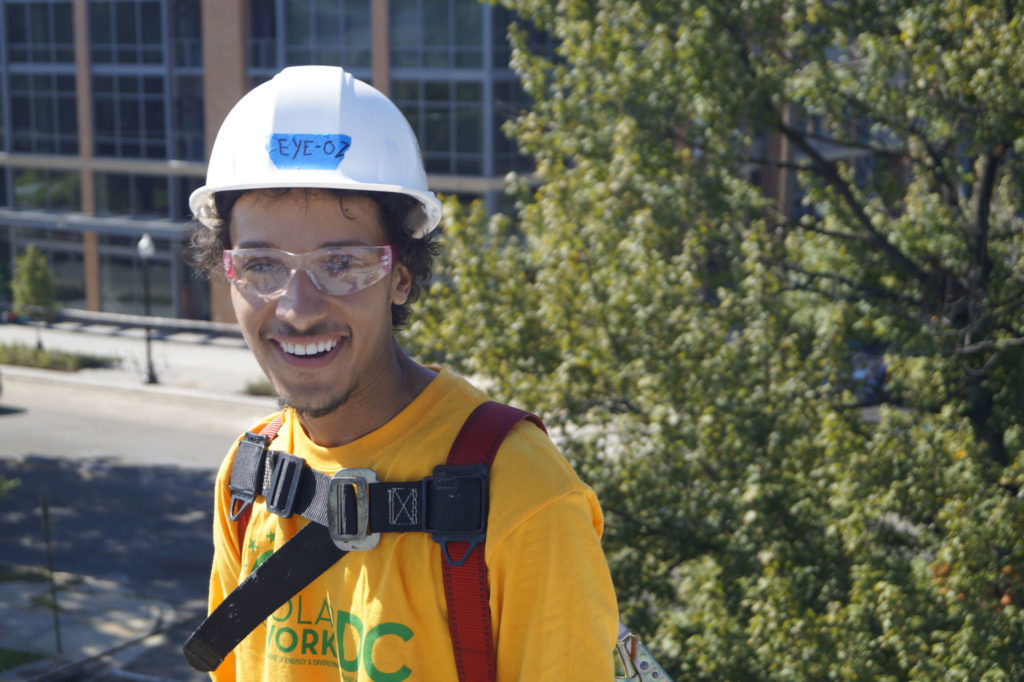 Solar Works DC, like other Solar for All projects and programs, is funded by the Renewable Energy Development Fund (REDF). REDF is a special purpose revenue fund to be used for promoting solar energy projects in the District; it is funded through compliance fees paid by electricity suppliers as required by the District's Renewable Energy Portfolio (RPS) standard (D.C. Official Code § 34-1434). DOES provides additional funding to facilitate wraparound services and remedial support to all trainees. This includes an array of support services and soft-skills training to enhance their training experience and further their professional development.
Participants in the 12-week cohorts complete GRID's Installation Basics Training (IBT) program, earning industry-relevant skills certificates by demonstrating competency in real-world solar installations. The curriculum also educates and trains participants on skills related to solar energy and its relationship to sustainability, climate change, and energy efficiency, as well as client acquisition via a variety of outreach methods to give them insights into sales and marketing and community outreach organizing. In addition, the participants receive CPR and OSHA 10 certifications, and take the NABCEP PV Associate Credential exam. 
Program targets aim for at least 50% of trainee participants to be placed into part- or full-time jobs or complementary training or apprentice programs following their completion of Solar Works DC. This program design promotes accessibility and direct pathways to the region's growing solar workforce. 
Last updated: November 2020