Program Overview:
The District of Columbia's Solar for All Program is a great example of a comprehensive low-income solar program because it encompasses single-family projects, multifamily affordable housing projects, community solar projects and workforce development.
The program was established by the Renewable Portfolio Standard Expansion Amendment Act of 2016, which expands DC's solar capacity, increases the amount of solar generated within the District, and provides the benefits of locally-generated solar energy to low-income households, small businesses, nonprofits, and seniors. The program is funded by the Renewable Energy Development Fund (REDF) and administered by the District's Department of Energy and Environment (DOEE). Specifically, Solar for All will provide the benefits of solar electricity to 100,000 low-income households (at or below 80% Area Median Income), and reduce their energy bills by 50% (based on the 2016 residential rate class average) by 2032.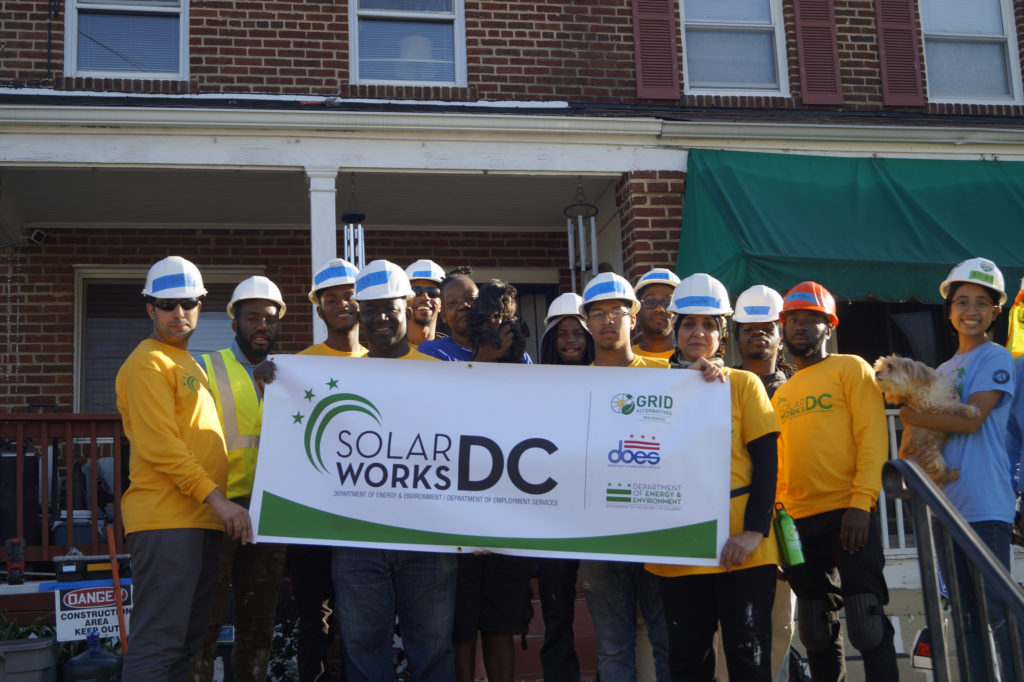 In the first phase of project development under this program, DOEE announced two Requests for Applications (RFA) for Solar for All Innovation and Expansion Grants in early 2017.
$8 million was made available to install 4 to 8 megawatts of new solar capacity on multifamily homes, commercial buildings, and non-residential surface spaces.

$5 million was made available to install 2.5 to 5 megawatts of solar capacity on low-income single-family homes, small business, and owner-occupied nonprofits.
Nine projects were awarded and are actively underway. The RFA guidelines required projects to address at least one of five core barriers:
Acquiring access to potential project sites by tailoring incentives to the respective project site owners/lessors;

Addressing competition for access to roof space due to conflicting incentives or requirements;

Acquiring low-income customers, educating eligible residents and building owners, and managing community solar subscriptions;

Providing solar power benefits to low-income residents who do not receive electric bills (e.g., master-metered building residents); or

Sharing the energy and other financial benefits (SRECs and ITC) associated with the installation of new solar energy systems with low-income residents.
For full background on DOEE's stakeholder process and the multi-year implementation plan for Solar for All, as well as a description of the FY17-FY18 Solar for All Innovation and Expansion Grant projects, DOEE's strategic external partnerships, and DOEE's inter-agency partnerships, please visit https://doee.dc.gov/solarforall
Guiding Principles Addressed:
Accessibility and Affordability. Solar for All is a fantastic example of leveraging public funds to deploy the benefits of solar to income-qualified District residents. In this case, REDF, which is primarily funded from alternative compliance payments, demonstrates a significant, long-term revenue stream toward program development to directly overcome financial and other challenges to solar access.  
Community Engagement: Before launching the program, DOEE established the Solar for All Task Force, comprising 13 solar professionals in the private and nonprofit sectors, including solar development, affordable housing, and green workforce. DOEE also released a Request for Information (RFI) to solicit ideas on developing a long-term solar program in the District.
Consumer Protection: DOEE works closely with social and environmental justice advocates and other community stakeholders, including the solar industry, to implement Solar for All in a way that protects and educates low-income consumers on the benefits of solar.
Sustainability and Flexibility: DOEE will implement Solar for All in five, three-year phases to ensure the program is sufficiently flexible to adapt to market changes and overcome barriers.
Compatibility and Coordination: DOEE understands the importance of compatibility and coordination of Solar for All with other efforts underway in the District of Columbia. Short-term actions to help achieve Solar for All goals include strategic partnerships, zoning and building code improvements, real estate mapping, public engagement and education, enrollment in the Low Income Home Energy Assistance Program (LIHEAP), and establishment of the DC Green Bank.
Last updated: May 2018