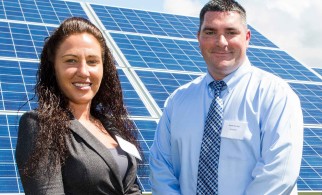 In the town of Gardner, Massachusetts, a community solar array on the site of a long-abandoned furniture manufacturing plant is now producing both electricity and energy cost savings for GAAMHA, a nonprofit organization supporting those with disabilities and substance use disorders.
Budgets are tight for this primarily state-funded organization, which provides a combination of housing and other services to empower more than 100 individuals to take control of their lives. GAAMHA's CEO Tracy Hutchinson is quick to emphasize that "anything we can do to help lower expenses is beneficial." That's why when the Mayor approached GAAMHA to participate in the Mill Street Solar Project, a partnership between the City, the Gardner Redevelopment Authority, and the nonprofit Boston Community Capital, they jumped at the chance.
GAAMHA is one of four local organizations currently getting virtual net metering credit from the one-megawatt project. Ms. Hutchinson says that the solar reduced their energy expenses by 38 percent in fiscal year 2015, even though they were only connected for part of that time.
For Ms. Hutchinson, those savings mean being able to dedicate precious resources toward improving lives rather than paying high electricity bills. With their solar savings GAAMHA has been able to purchase IT equipment for residents and provide weekly excursions for individuals to such places as the bowling alley, art museums and the mall, helping them make friends and be part of their broader community.